😛🌵Super FUN and Entertaining for Kids of all ages!
Play the Video Below to See Isabelle's Review of the Cactus Toy
Keep your children occupied while they play and learn in an exciting manner.
Gifting toys to your kids and seeing their happiness can be one of the most pleasurable moments for every parent. If your kids love moving toys, then this Electronic Dancing Singing Cactus Education Toys is the best option to choose. They are definitely going to enjoy the company of this cactus and can also sing and dance with it.
 It contains 120 different English songs and you can select any of your favourites amongst them. The most enjoyable part is that it repeats and mimics everything that you say.
Excited about Your Baby's First Reaction?
After 123,453 orders from Happy Mums and Dads around the world, we've discovered that Babies' first reactions, depending on their personality types, vary quite considerably.

While some babies are in absolute awe, others quickly bond & immediately grasp how it works. A few actually react very negatively and they express that through crying.
It's critical to recognise that the Talking Cactus Toy not only enables your baby to learn in a fun way, but also helps to improve their interacting abilities by pushing them to think, analyse, and be creative.

So, if your kid has an unfavourable reaction at first, consider reintroducing it to them at a later period.

P.S. Eventually, they all fall in love with the Talking Cactus Toy.
Features
Your kids are going to be startled, laugh and interact with it a lot with these unique features of talking, dancing and mimicking. It is made up of superior quality materials that will ensure its long-lasting performance without any break.
How it works
The toy comprises an advanced sound system that will give a high-quality sound. It can also rotate 360 degrees while dancing and showing its unique moves. You can enjoy this amazing dance show in the comfort of your home and it will also encourage your kids to dance and sing with them. You can also gift this dancing cactus to any kid, toddler or newborn as they are going to love it.
Is it Safe for my Child?
This toy is absolutely safe for children and does not contain any sharp edges. The pot and body are made up of plush PP cotton to ensure the child's safety. This toy is available in four different designs that are super cute and attractive for a child. To play with this toy, all you need to do is press the button, and the body will start shaking and singing songs.
Our Fulfillment Warehouse Video
WHAT CAN THE DANCING CACTUS DO?
It moves, sings and dances rhythmically – the Cactus knows more than a hundred songs; the toy glows – it can be used even as the nightlight; it has the voice recording function that helps repeat whatever your baby says.

By the way, the Dancing Cactus is a great gift for your kids. It's good both for the newborn and the toddler. If you don't know what to give as a present, choose this unusual toy.

Using the cactus Toy
You can't say about every toy that it's really helpful and beneficial. But Dancing Cactus toy is really such a thing!

First, it encourages babies to make and improve their movements 

–

 it's really hard for a child not to join the dancing looking at this funny cactus.
Second, it's fascinating 

–

 all the attention of the child will be captured by the toy plant. It can develop the imagination.
Third, the Dancing Cactus is a great way to improve fine motor skills. Children really like to touch the soft plush and knitting during the playing.
Buy this nice and multifunctional toy not only for your child but also for yourself. Don't forget – while the baby is captivated, you can concentrate on yourself.
Features
🌵【High-quality material】 Our talking cactus toy is made of knitted plush material, Soft material, comfortable, safe, parents don't need to worry that the interactive toy toy will stimulate kids' skin.
🌵【Funny Toy】

 

This talking cactus toy can sing, danced and repeats what you say like a parrot, and has led lighting effects and 120 music. Trust me, the dancing cactus will have fun with your kids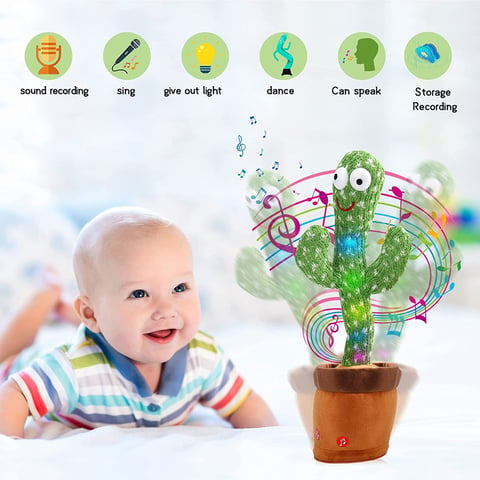 🌵【Suitable size】This childhood education dancing cactus toy has a height of 11.8 inch and its weight is about 210g. Very suitable for children to play together. Charging with USB charging cable.
🌵【Best Gifts】Mimicking talking cactus toys can bring happiness to children, this is the best birthday present for children. It is also an educational toy for kids.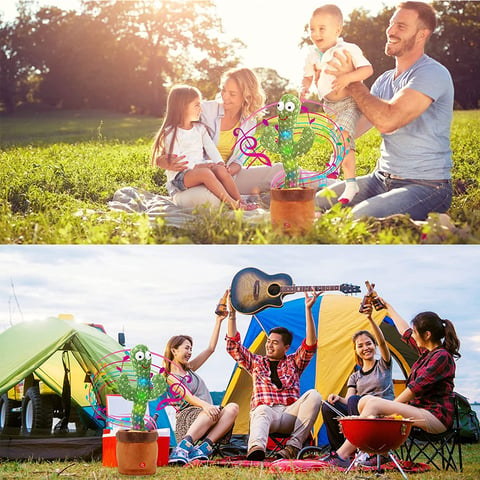 🌵【Worry Free Guarantee-MIAODAM】We are committed to giving you premium quality products that are worth every penny. If you have any issue for talking cactus, please contact our customer service and we will help you solve the problem be quick and friendly
How to Use:
Specification
Material:plush + electronic components
Weight:210g
Size:30cm(height)/11.8 in
Package Include
1*The Talking, Singing And Dancing Cactus
Shipping Times:
Orders are packed with love and sent your way from our Local warehouse closest to you, often within 1 business day! The shipping time varies a little bit depending on where you are in the country, sometimes as fast as 2 business days, sometimes it might take 8. 

Thank you for your patience!
Returns:
We've made things easy for you. Our teams are here to help you figure out your replacement. We always offer replacements, and we work with all our customers :) Just message or email us and we'll help you out.

Refunds:
Once your return is accepted, received and inspected, we'll immediately process your refund and we will send you an email to notify you that we have received your item.

Your refund will be processed and a credit will be automatically be applied to your credit card or original payment within a few days. See? Hassle-free!